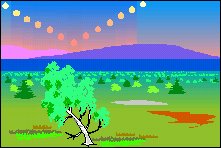 NOW REISSUED ON VINYL from JACKPOT RECORDS
REMASTERED by KEVIN GRAY!
Click on the picture above to enter the Seiche Gallery!
Seiche proves that GRUNGE and DARK music really came from
Chicago, Illinois, not Seattle! And 12 years before there ever was Nirvana!
Seiche Lineup Includes:
Steve Zahradnik - Guitars & Lead Vocals
Marc Levinson - Drums & Percussion
Tom Vess - Bass & Vocals
Songs include:
In The Calm Of Your Eye, Evidently Me, Islands,
Dissonant Toys, The Maze, Medicine Man & Good Mourning
7 Songs Total.
You also get a bonus song via download: Seiche covers King Crimson's Larks Tongues in Aspic II
Get it here!
Seiche - Demo Press (Vinyl LP) (jackpotrecords.com)

SEICHE Bio;

The definition of a seiche is: a small tidal wave that occurs in a lake.
Since the band SEICHE formed in Chicago right near Lake Michigan, they saw an
opportunity to put that name to good use for their band. Many SEICHE have
arrived and flooded out Lake Shore Drive. Chicago usually gets 2 to 3 per
year.

The band originally began in the Summer of 1978 on the South side of Chicago
near Marquette Park as the brainchild of Steve Zahradnik, who at the time
had been playing guitar for only one year. Steve was heavily influenced by
Robert Fripp & King Crimson and all past/present members like Ian McDonald,
Bill Bruford, John Wetton, Greg Lake, Boz Burrell, Giles Bros., etc. Steve
was also influenced by other bands such as The Doors, Pink Floyd, Genesis,
UK, Yes, etc.

Steve hooked up with Tom Vess (bass player) who also shared the same
influences. Tom was more of a Yes fan than anything. He could perfectly
emulate Chris Squire with his fretless bass.

Audio engineer and good friend of Steve's, Joseph Klinger decided he was
going to handle the management side of the band which included finance,
bookings, production of an LP (record.)

"After a few months of practicing in the garage, we started auditioning
drummers. We auditioned about 30 before we came across Marc Levinson. Marc
was very unique in the way that he could emulate any style and any drummer.
Marc, however was very hard to get because he was playing a lot of private
party gigs around the city that paid big money. Marc was a union musician
with the AFM local 10-208 for several years at that point and both his father
and grandfather were prominent Chicago bandleaders, so Marc always had work."

"After we struck an agreement with Marc we began rehearsing our show and we
were now a complete band, Joseph had booked a slot for us to record our
new LP at Heddin West Studios, Schaumburg, Illinois, the biggest and best
studio in the Chicago area (now named Remmington Road Studios.") "We were
very excited!"

Seiche played many venues around Chicago. "We opened our live show with
"Larks Tongues In Aspic II" by King Crimson (Live USA LP version) and
played mostly covers like "Dance On A Volcano", "Watcher Of The Skies" &
"The Serpent" (Genesis) "Lament & 21st Century Schizoid Man " (King
Crimson) "Love Her Madly" (Doors) "Astronomy Domanie", "Time" & "See Emily
Play" (Pink Floyd) as well as many other cover songs along with our
originals."

"On the SEICHE LP we recorded 7 original songs all co-written by Steve, Tom &
Marc, produced and engineered by Joseph and co-produced by Seiche." This LP
was released in February 1979, only 10 months after SEICHE first began rehearsing.
"We received a lot of College airplay from WNUR Northwestern University."
"They seemed to like "The Maze" the most." This one was like a Jeff
Beck instrumental with Spanish guitar in the background.